We're two Torres Strait Islanders - defending our communities from climate change
Wadhuam (Maternal Uncle) Pabai Pabai
We are born to these islands, they are our mothers, our identities, who we are. For thousands of years, our warrior families fought off anyone who tried to take our homelands from us. But now we could lose the fight to climate change.
I'm a Guda Maluyligal man and a Traditional Owner of the island of Boigu in the Torres Strait. I am in my 50s, with five daughters and two sons. I've lived on Boigu my whole life, and I am a Director on the Prescribed Body Corporate that represents the 6 clans on the island.
Boigu is extremely low-lying – the highest point is 3m above sea level – making it very vulnerable to flooding. The flooding is getting worse because of climate change. As a Boigu man I have specific responsibility to protect sacred cultural sites but the rising sea is making it impossible and could mean they disappear forever. Loss of these places would be devastating for Guda Maluyligal communities now and for generations to come.  That's why I'm bringing this case – I have a cultural responsibility to protect my community, our culture and spirituality from climate change.
I can't imagine being forced to leave Boigu because this island is me and I am this island. There are 65,000 years of wealth and experience here. Losing Boigu will mean losing that. If you take us away from this island then we're nothing. It's like the Stolen Generation, you take people away from their tribal land, they become nobodies.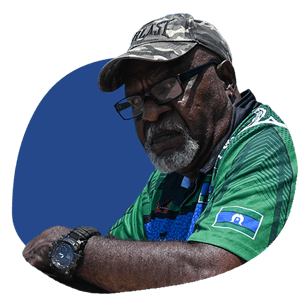 Wadhuam (Maternal Uncle) Paul Kabai
Weather patterns have changed, seasons have changed. It's affecting everything – our homes, our gardens, our sacred sites, our reefs. If something doesn't change quick then we'll be environmental refugees on our own islands.
I'm a Guda Maluyligal man and a Traditional Owner of the island of Saibai in the Torres Strait. I am in my 50s and have 2 daughters and six sons. My family has lived on this island for thousands of years. I am a Director of the Prescribed Body Corporate which represents the 7 clans on the island.
Climate change is already here: storm surges are getting worse and the seasons have changed as well. Our gardens now get flooded with salt water, and our homes, cemetery, school and community centre are all at risk. There are also a lot more mosquitos, so the risk of catching malaria is greater.
If we become climate refugees we will lose everything: our homes, community, culture, stories, and identity. We can keep our stories and tell our stories but we won't be connected to Country because Country will disappear. That's why I am taking the government to court, because I want to protect my community and all Australians before it's too late.
Our people have lived in Zenadth Kes – also known as the Torres Strait Islands – for thousands of years, with knowledge and culture passed down from generation to generation. But now we face an existential threat: rising sea levels, driven by the burning of coal, oil and gas…
We are being supported by Grata Fund, a charity that supports marginalised people and communities to advocate for their legal rights. Grata Fund removes the financial barriers that prevent public interest test cases from going ahead. Grata Fund has supported successful cases on issues related to First Nations housing and water rights, Freedom of Information, refugee detention, climate change and disability rights.

We are being represented by legal firm Phi Finney McDonald, a specialist litigation firm that practices in complex and large-scale litigation, with a focus on class actions and group litigation. Their lawyers have decades of experience seeking justice for those who have suffered loss or injury from corporate or government misconduct.
We are being represented in court by Fiona McLeod AO SC, a Senior Counsel at the independent Bar in Australia practising in the areas of commercial and public law matters. She represented the Commonwealth of Australia in major cases including leading the legal team in the Victorian Bushfires Royal Commission, Queensland Floods Commission and the Royal Commission into Institutional Child Sex Abuse. She has acted in other notable matters including leading the legal team representing the successful plaintiff in the Murrindindi bushfire class action, and the plaintiffs in the Don Dale class action. Fiona has led the Law Council of Australia, Australian Bar Association, Victorian Bar and Australian Women Lawyers. She is the Co-Chair of the Diversity and Inclusion Council and an officer of the Bar Issues Committee of the International Bar Association and a member of the Council of the Commonwealth Lawyers Association.
We're also being supported by the Urgenda Foundation, a Dutch NGO that is working to promote a fast transition towards a sustainable society. Urgenda views climate change as one of the biggest challenges of our time and looks for solutions to ensure that the earth will continue to be a safe place to live for future generations. Urgenda has helped develop the case and will continue to provide strategic and scientific support.